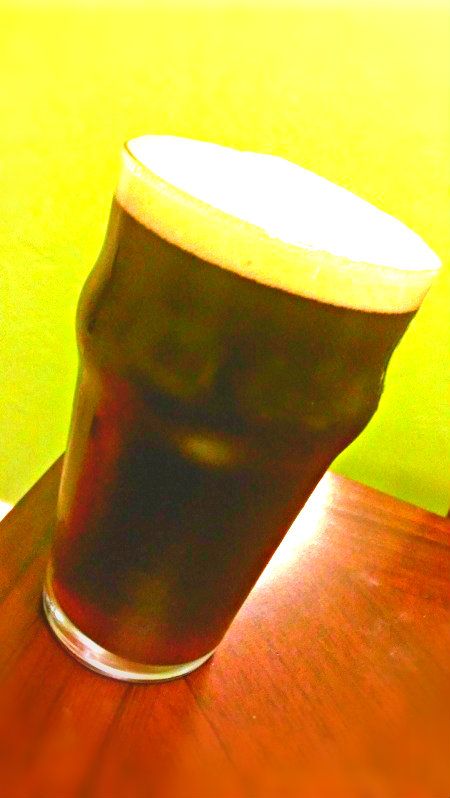 When I wrote the recipe for this beer I was looking for a dank and sticky Red Ale, and I got it, kind of. Unfortunately the hops weren't as big as a presence as I had hoped for and they are fading quick, but they still show off. It is definitely more of an American Brown with the color and somewhat more restrained hops, but good none the less. I had hoped for more citrus and pine from the load of Chinook. I would like to rebrew this one again next year and back off the crystal malt a touch, cut the roast barley back quite a bit, and load up on a lot more Chinook.
Look: More Brown than Red, this beer pours a murky chestnut with ruby hues under a thick sticky beige head that leaves great lace all the way through.
Aroma:
Smells of big resin, thick sticky hops, pine cones, dark fruit, citrus, spice, raisins, burnt sugar, light roast, sweet breads, caramel & toffee, fruity.
Flavor:
Taste hits big with resin, followed by pine cone, malty, bread dough, caramel, burnt sugar, roast grain, raisins, grapefruit, clean.
Mouthfeel:
Semi sweet with a firm bitterness, malty, nice carbonation, medium body. Sticky hops coat the tongue and linger. Carbonation is fairly high helping to lift the lingering hops for a cleaner finish.
Overall:
Beer turned out nice. I was looking for big malt and resin and I got it. Color is way too dark, but the flavor is great. Fermentation is clean, carbonation is a little high (gushes at room temp, but FG is still the same and no gushing at fridge temps). I was hoping for more pine and citrus from the Chinook. Unfortunately the hops are beginning to fade after only a month or so.