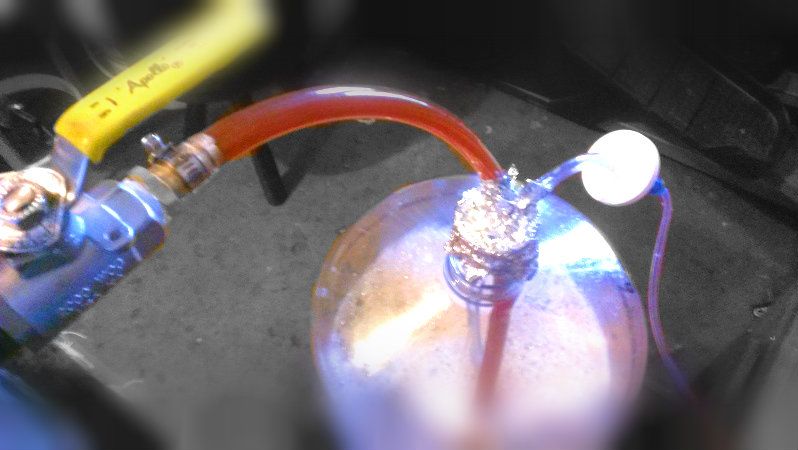 Lagers… the difficult beers of brewing… temp control, larger pitching rates, clean beers, a showcase for brewing flaws. Some brewers never make the move. I have avoided these beers for the 2 years I have been brewing for 2 reasons: 1) pitching rates, 2) I don't care for very many lagers. My tastes don't mesh well with many of the pale lagers I have tried, thus far I have enjoyed a few Munich Dunkels, a Schwarzbier or two, and a good, dark Dopplebock, but if the Dopple is lighter, I tend to not care for it much. Add to this the lack of drive to build up a 7 liter starter (not too mention the lack of equipment for it) and there hasn't been much push to brew a lager.
Recently I was at a brewing friend's house discussing and crushing hops when the topic switched over to lagers. He loves to brew them and has a refined palate for critiquing them from his time in

Germany. He has consulted with some of our local Breweries on their lagers and helped them to reach a much better level in brewing these beers. When I voiced my concerns about pitch rates he, surprisingly, said that too much emphasis is given to the whole giant pitch thing. He stated that a 2L starter is more than adequate to brew a great lager, but too many people are fermenting them at the higher end of the temp range and then taking them off of the yeast prematurely. With this encouragement, I finally decided to take the plunge (with a 4L starter to be safe). I have been procrastinating long enough, and now it is time to brew my Dopplebock.
For my grain bill I started with a base of German Munich Dark for a nice bready, toasty character, with some Pils for some diastatic power and graininess. I then layered in a blend of 2 Caramunich malts from MFB since this maltster seems to have some of the best complexities, and I have been enjoying these malts in my Red Ale, and Wee Heavy. The Caramunich 120L will give off some dark fruits, and the 40L will add some caramel sweetness as well as some toasty notes. Add in some MFB Chocolate for some cocoa and light coffee notes since this is one aspect I look for in a Dopplebock. Salvator is one of my favorites and this recipe is loosely based on a clone of that beer. I also have a touch of Melanoiden Malt in there for some of the character you get from a decoction mash (which I won't be doing). A good dose of Noble-sub hops for bittering should help balance it out nicely.
As with many Dopplebocks, the name always ends in –ator, so I decided to go the same direction when naming this one: Procrastinator. Since I procrastinated making a lager for 2 years, and then procrastinated another 2 weeks after writing the recipe to get my grains, and another 2 weeks after crushing my grains (timing was off) to brew it, and I will procrastinate packaging and drinking as well, the name seems fitting.
______________________________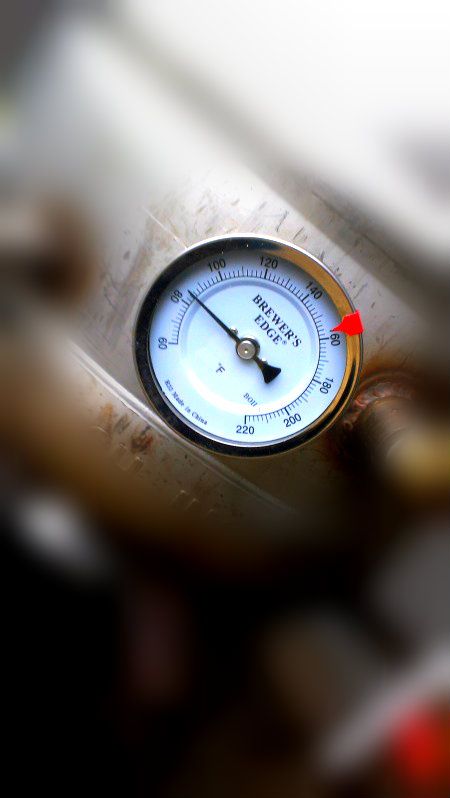 ______________________________
11.5# Weyermann Munich II
0.50# MFB Caramunich 120L
0.50# MFB Chocolate Malt (end of mash)
0.50# Light Brown Sugar (end of boil)
______________________________
FWH – 1.70 oz Santiam ~ 6.0AA% (Home Grown)
______________________________
25 mins Aeration with pump
Wyeast 2308 Munich Lager (11/27/2012) 4L Starter (2-2L steps)
7 weeks @ 50*F
1 week @ 42*F
6 weeks @ 48*F
Bottle Conditioned
12 weeks @ 42*F Bottled
______________________________
Gypsum: 1/4t (mash), 1/8t (boil)
Calcium Chloride: 7/8t (mash), 1/2t (boil)
Pickling Lime: 1/4t (mash)
______________________________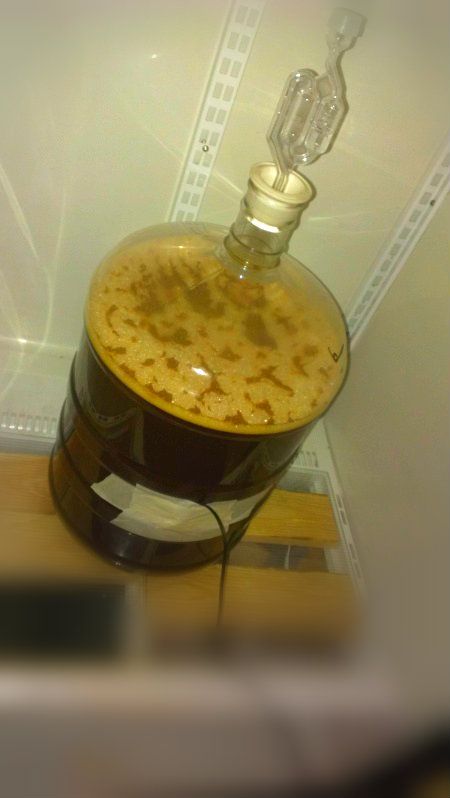 12/22 Brew day had a few glitches to start with. I had to remove the braid in my mash tun since the SS hose clamp was not fully SS and had rusted. The braid was rusted as well so I had to take a hacksaw to it which was quite difficult and my strike water was ready before my MLT was put back together. Once I got it put together my mash temp hit perfectly.
The next difficulty was that my new dip tube set up was losing suction and I had to spend an hour trying to get the fitting in correctly which still loses suction but I am able to compensate for it by tilting the kettle near the end.
I hit much lower efficiency than normal (80%) and ended up adding a half pound brown sugar to boost the OG into the Dopplebock range. The beer will be smaller than I wanted and I hope the sugar doesn't dry it out too much taking away the desired med body and semi sweet finish.
The new chiller cranked the beer down to ale pitching temps with in about 10 minutes. The new lid fit for my chiller made covering it very easy and effective. The new kettle thermometer made regulating my chilling temps a breeze.
Airlock showed positive pressure by bed time that night, and full fermentation was going the next morning. Temp controller is maintaining the temp at a constant 10.4*C.