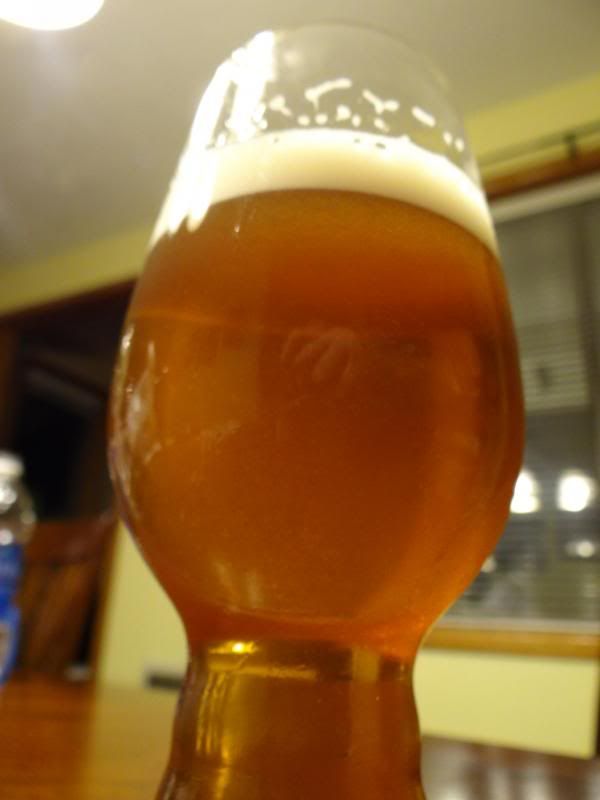 There is something about a good West Coast IPA, lots of hops bursting out of the glass, complex layers of fruits, resin, pine, and dankness atop a subtle malt background and a dry finish. That's how I like 'em, and that's how I make 'em. The layers of hop aroma and flavor are great on this beer, though the bitterness needs a boost. Both this beer and the Black IPA that was made with it really hit the spot. The use of Munic. Maybe Malt and Dark Wheat really get the color to a deep orange w/o the raisin flavors and sweetness associated with oxidized crystal malts.
Pours a slightly hop hazed burnished orange with a dense off-white head fades slow to to a cap and leaves great rings of lace all the way down the glass. Tiny bubbles feed up from the bottom. Some hop particles in suspension.
Hops leap out of the glass, peach and mango, blueberry, pine needles, followed by hop resin and grapefruit with onion in the background. Just a touch of floral hops. There is a sweet and toasty malt note behind it all. The peach esters from the West Yorkshire yeast really pull it together.
The taste follows the nose, big burst of juicy hops, peach, tropical fruits, pine, and a grapefruit kick. Dank hop resins follow with lots of hop oils and toasty malts below. Hard to tell if the peach is all hops or all yeast, but they blend well.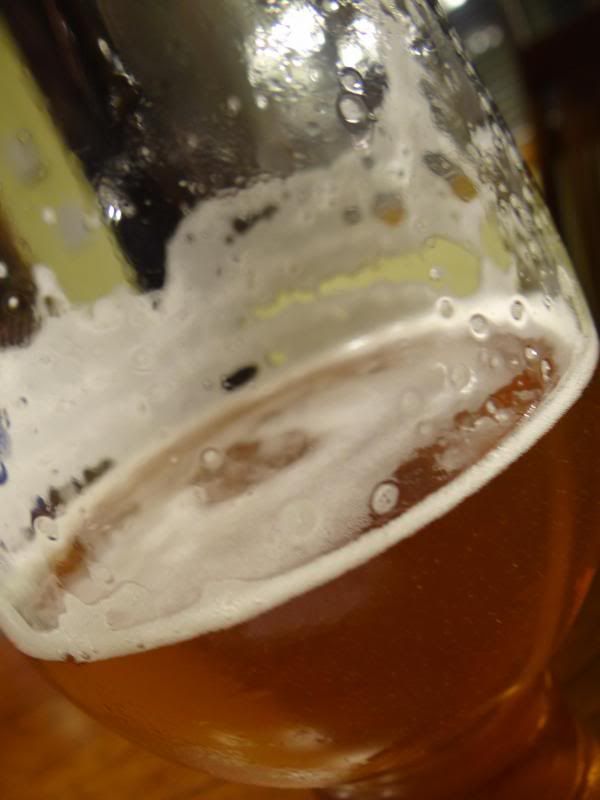 Medium body is rich and smooth, slightly full on the palate, but not heavy, which is part of the hallmark of the West Yorkshire yeast. Semi-dry finish, needs to be drier for my tastes. Bitterness balances well, but really is too soft, needs a boost. The finish is slightly flabby which I am beginning to believe is from the addition of pickling lime to my mash. I think it is taking the finished pH up a little and leaving the beer without that dry crisp punch I really want to see. Lactic acid in the glass makes it pop a little more.
Big burst of juicy hops in the nose and tongue, complex hop notes, toasty malt sweetness, good lacing. This beer is well on it's way to becoming a great IPA (last year's version took 2nd place after 3 months). We will see what happens with this one when I enter it in June. The finish needs tweeking, up the IBUs, dry it out a bit more, and get the pH down a tad. Other than that this beer really quenches that need for lupulin. Maybe a touch more dankness to round out the big fruits.