For going into this beer blind to exactly what to expect from both the hops and the yeast, I am quite pleased with the results. So much so that I want to brew it again, and used the yeast for my barrel project. The yeast didn't finish as dry as I had hoped on this iteration, but after speaking with the manufacturer, he stated that it is much more characterful and dry when used at a higher temp (got down to 1.005 on the barrel beer, but it contained sugar as well). It is still fairly dry, spicy, characterful, and hoppy, and the taste is great.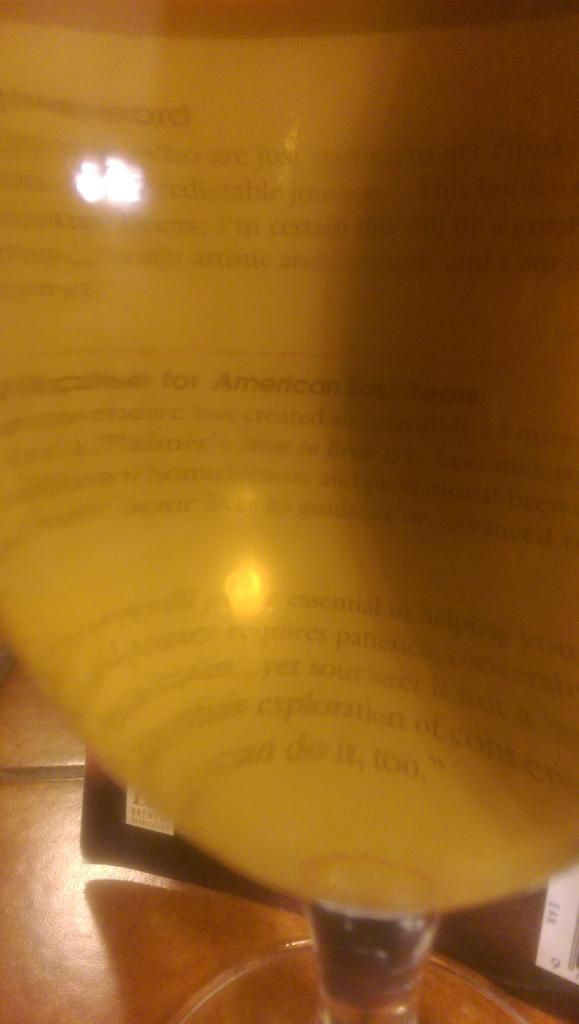 Literally clear enough to read through, this beer is stunning. Pours a brilliant pale gold into my Saison glass. A top the beer is a thick, moussey, stiff head made of tiny bubbles that lasts for days, leaving thick lace down the glass to the bottom.
The first thing to jump from the glass on this beer is definitely the hops. Bold burst of floral and resin, hop oils, grassy, light herb notes, earthy. Under this is a touch of sulfur (part of the yeast's character) and white peppercorns. There is some hay and a touch of funkiness to it, but not Bretty. A mild vinous character, grape skins, hint of pear.
As the beer washes over the palette there is a general tartness to it, mildly Lactic, giving way to a wheaty cracker note from the malts. Herbal and floral hop notes in the mid range play nicely with the peppery notes from the yeast. No esters, just a touch of sulfur. The finish is a medium bitterness, but needs to be dryer.
Medium body sits light on the tongue from the carbonation which should be higher in a Saison, but that is the sacrifice you make with kegs. Semi-dry finish needs some work as it should be bone dry for the style. Bitterness is right where I wanted it which is amazing since I didn't know any information on the hops, not even the variety. Touch of tartness and phenols in the end.
Though the beer is lacking the super dry finish and high carbonation, as well as the dominate esters of a typical Saison, this beer is really enjoyable. Not totally true to style, but headed in the right direction for sure. The marriage of hops and yeast on the mild malt background is an amazing display of rustic character. During fermentation, this yeast exhibited a strong smell of Orange Julius (orange juice and banana) which didn't carry over into the final product which is sad.