Saisons, arguably my favorite beer style. Well, that and IPAs. And Wild/Sour beers. Hard to choose... so why not just take aspects from each of them and combine them? In more of the American Farmhouse tradition I took a more traditional Saison (Pale, Rye, Munich) at 1.037 OG and layered in some bold American hops. Coupled with the dry and bitter finish, with the fruity and spicy yeast character it should make for a great, easy drinking beer. I also split up the big batch onto 2 separate yeast pitches.
For one I used a starter I had built up from Allagash Confluence, which contains their proprietary house Belgian yeast strain as well as a proprietary Brett strain they isolated in their coolship (named it Jolly Roger since I plundered their yeasts!). On the other half my yeast pitch was far more complex, which I dubbed Too Small since it is so crushable. I had to resurrect an 8 month old Fantome yeast and 2 Brett strains from the fridge, cultured a new strain from Orval, and built up 3 other Brett strains. Add to this that I
attempted to culture 3 sources of Lacto
(which failed). I was able to get a good pitch of Cascade Lacto from Stephen though, so it worked out. All of these strains were pitched (along with some 3726 Farmhouse) simultaneously at primary. My hope is for a fruity, slightly spicy, tart, funky, complex blend of all the yeasts and bacteria.
I was blessed to have my oldest son Callen come out and share another brewday with me too. He got to "brew" his own "beer" again this time, but instead of grass and water, or spent grain and dead leaves, I threw a pound of malted oats his way and then dumped the dry hops from my blown keg of IPA in there for him. He really enjoyed it, and Caleb (our youngest) even got in on the action giving it a good stir. Callen even got to add the 15 minute hop addition to my kettle this time. He is getting so big, a far cry from my little bottling buddy with a binky.
_____________________________
Gallons: 5.25 (Jolly Roger); 5.00 (Too Small); 0.5 (Tej)
FG: 1.004 (Jolly Roger); 1.003 (Too Small); 1.004 (Tej)
ABV: 4.7%
(Jolly Roger); 4.9% (Too Small); 4.7% (Tej)
_____________________________
8.00# Pale Malt (Great Western) (57.1%)
4.00# Rye, Flaked (28.6%)
_____________________________
15 1.00oz Amarillo 9.50%AA
15 2.00oz Crystal 6.20%AA
15 1.00oz Calypso 12.80%AA
WP25 @170 1.00oz Amarillo 9.50%AA
WP25 @170 2.00oz Crystal 6.20%AA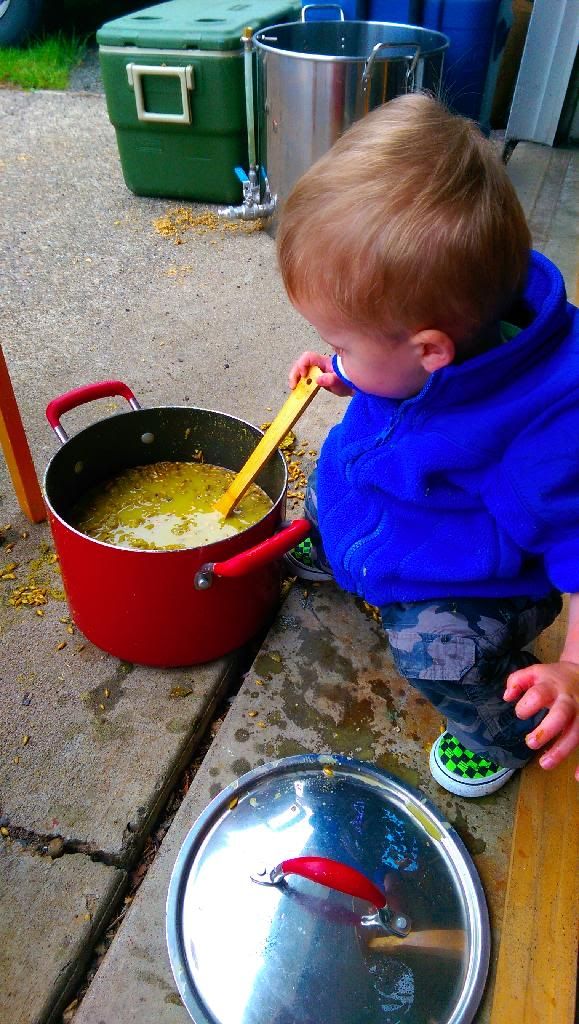 WP25 @170 1.00oz Calypso 12.80%AA
DH 1.5oz Amarillo 9.50%AA (Jolly Roger only)
_____________________________
Gypsum-Mash: 1 3/8tsp, Boil: 1 4/8tsp
Epsom Salts-Mash: 5/8tsp, Boil: 6/8tsp
Calcium Chloride-Mash: 4/8tsp, Boil: 5/8tsp
_____________________________
Jolly Roger (5.25 gals) Allagash House - Belgian & Brett
Too Small (5.0 gals) 3725, 3726, Cascade Lacto,
WY Brett C, Orval Brett B, Elysian Mortis Brett B,
WLP Brett B Trios, BSI Brett L, Flat Tail Brett F
Tej yeast (0.5 gals)
65*F 3 days (in keg on dry hops)
_____________________________
4/18-19 Started brewing alone. Mashed in at 9pm at 153*F, stirred mash with lid open unitl it had dropped to 150*F. Purged MLT with CO2 and bundled up with heating blanket and sleeping bag for the night. By 7 am next morning it was down to around 135*F. Refractometer is constantly reading super low when compared to a chilled hydrometer sample. Callen and Caleb joined me for a joint brew session. Boiled for 35 minutes and ended up about 2 qts short and slightly higher on my OG. Chilled to 180*F with short cycle of water in the chiller and then turned off chiller and added Whirlpool hops. Steeped for 30 mins, temp dropped to 160*F. Chilled to 68*F then transferred via pump to 2 Better Bottles and a 1 gallon jug at 10:30 am.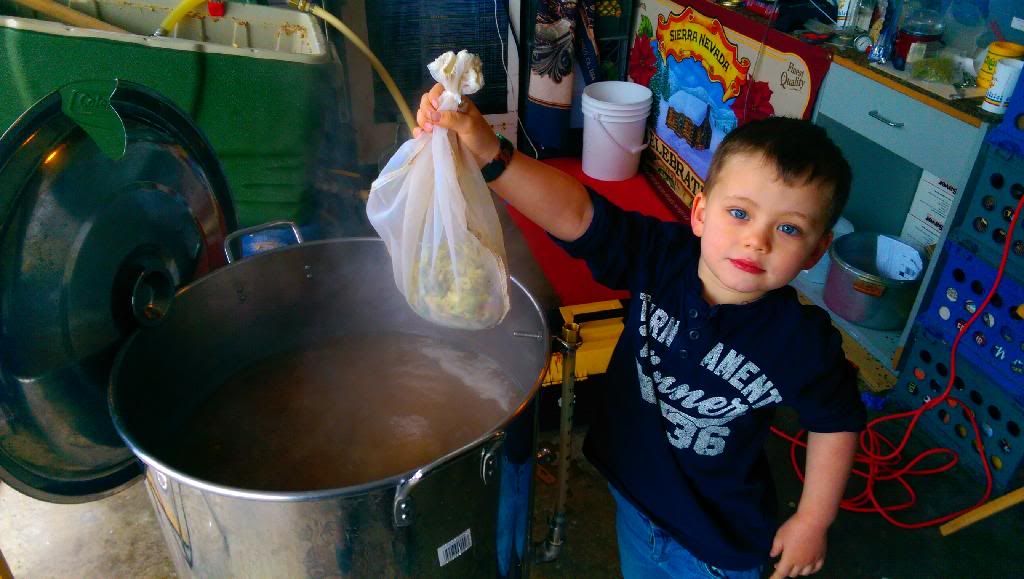 Pitched Tej yeast into 1/2 gallon worth, active by bed. Pitched roughly 2/3 cup slurry from Allagash starter, had krausen by 3:30pm. Pitched roughly 1/8 cup of slurry each of 3725 (fresh starter) and 3726 (6 week old cake). My Lacto starters didn't take so I had to get some Cascade Lacto starter from my buddy Stephen, pitched about 150ml of starter at 1pm. Combined roughly equal parts of each starter of 6 Bretts into a quart jar and then crashed the yeast out in the fridge until 8:30, then pitched the combined slurry. Active by 11pm. All beers had full krausen next morning before church.
4/21 Tej yeast slowing down, ramped up temp on Saisons to 75*F
4/23 Pulled samples. Jolly Roger is down to 1.009, clear, lightly fruits, spicy, very Wit yeast like, still has some krausen on top. The Too Small is down to 1.008, mild fruit, mild spice, yeasty, very murky (3725 is a very low floccing yeast), light tartness, krausen is dropping. Both reading 72*F in middle of the fermentor so bumped up to 85*F on controller to get it closer to 78-80*F towards the center. Tej is super clear, all yeast has flocced out, top is totally cleared.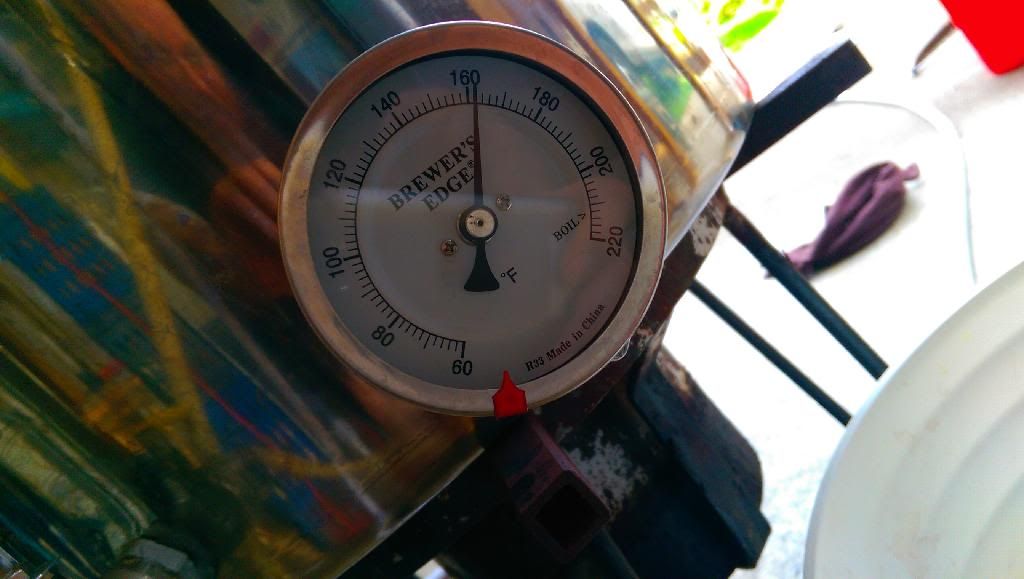 4/30 Big bubbly pellicle forming on the Too Small version. Tej yeast is starting back up? After a couple days of scattered foamy patches appearing, it is now covered with a fresh foam accross the entire surface. Not a pellicle. Could the yeast be starting back up, is there another stain? Interesting.
5/3 Transferred the Tej version to a 2L to force carb (clear again). Kegged the Jolly Roger with 1.5oz Amarillo pellets and left at 65*F for 5 days while carbing. Kegged the wild blend version and left at 65*F for another 12 weeks in the garage to age out a little more before carbing and chilling.