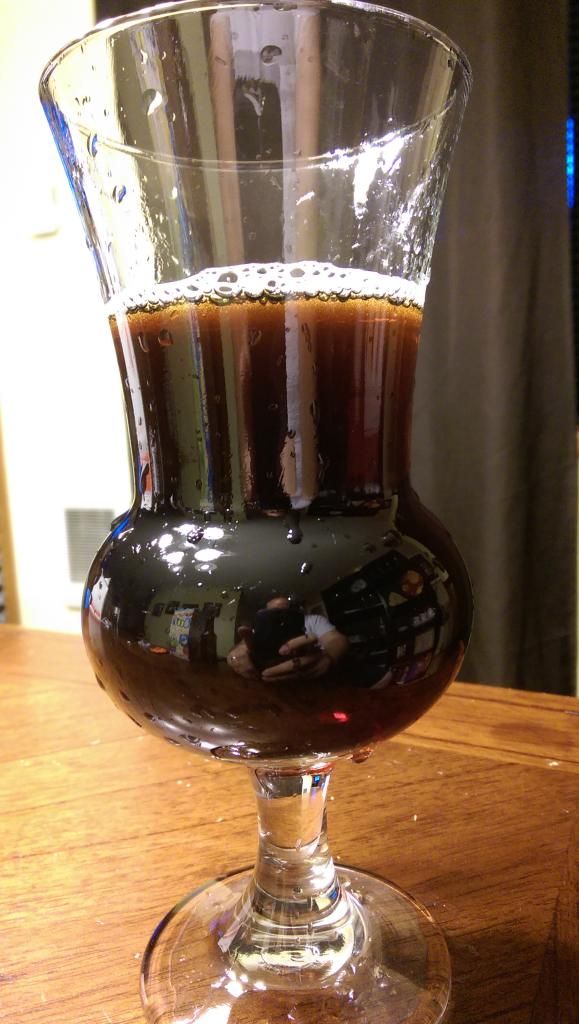 Scottish Wee Heavy. I really enjoy them, but have not been able to make one I enjoyed in my 2 previous attempts. One was infected and had lots of cherry pie. The other was left to age on the yeast too long and tastes like pot roast (great for cooking stew, chili, or Corned Beef). For this one I used a base of Golden Promise for a richer and sweeter malt character, and layered on top of it Cara-Pils for body, and British Dark Crystal, Carastan, and a hint of Special B to play up the rich toffee and dark fruits. I wanted this one to hit hard on all cylinders. Add to that aging it in the keg for a few months on second round oak chips and some Bourbon. Almost perfect. Needs a couple tweaks. 10.4% tastes nice, should drink great this fall after a few more months in the cellar.
The first thing to hit the nose is dark plums, caramelized figs, and rich toffee. Behind this is a dark crusty bread. Layered in and around the malts are medium-low notes of vanilla, barrel juice, and char. Notes of molasses and burnt raisin linger in the back with a finish of alcohol. The malts are dominant, but the level of aroma is medium high at most which is too style, malty, but doesn't jump out of glass like other styles.
Poured into a traditional Scottish Thistle glass at cellar temps, the beer is a clear dark brown with deep garnet highlights under a thin wispy khaki head that remains as a ring all the way through. Leaves no lace, but lots of legs slip on the glass with each sip.
As you sip you're greeted with rich malts, dark bread crust dominates. Not much of the dark fruits from the nose though which is sad, but there is a good medium level note of burnt sugar. Touch of age is on the palate with a hint of Sherry, but this is behind the woody oak, Bourbon juice, notes of vanilla, and a deep char from the wood. The Bourbon character is low, the wood a little more expressive, but not by much. Quite sweet.
The beer is full and chewy, sweet, borderline cloying. Low carbonation as to style. The finish is sweet and full and rich, not really a trace of hop bitterness. Definite warmth from the high alcohol, but it is clean. The finish is flabby, needs some pH adjustment to finish a little cleaner on the palate. Also need to use fresh hops instead of homegrown ones that are a little old, needs a touch of bitterness to balance it out.
This beer is rich. Super malty, with big alcohol warmth. Great blend of oak and dark fruits and melanoidins in the nose, and caramel and oak on the tongue. As far as a base recipe, I am thinking I hit it on this rendition, but still needs some tweaks on water and pH to help the finish, as well as a beefier IBU to help with all the sweetness and aging. The oak and Bourbon need some help. I actually think that this beer would be better with a little more oak, and Rum instead of Bourbon. A touch of acid in the glass helps the finish round out better and cleanses the palate on the swallow.
33/50

1/31/15*** This beer took 2nd Place in Wood Aged Beers at the 2015 KLCC Homebrew Competition***