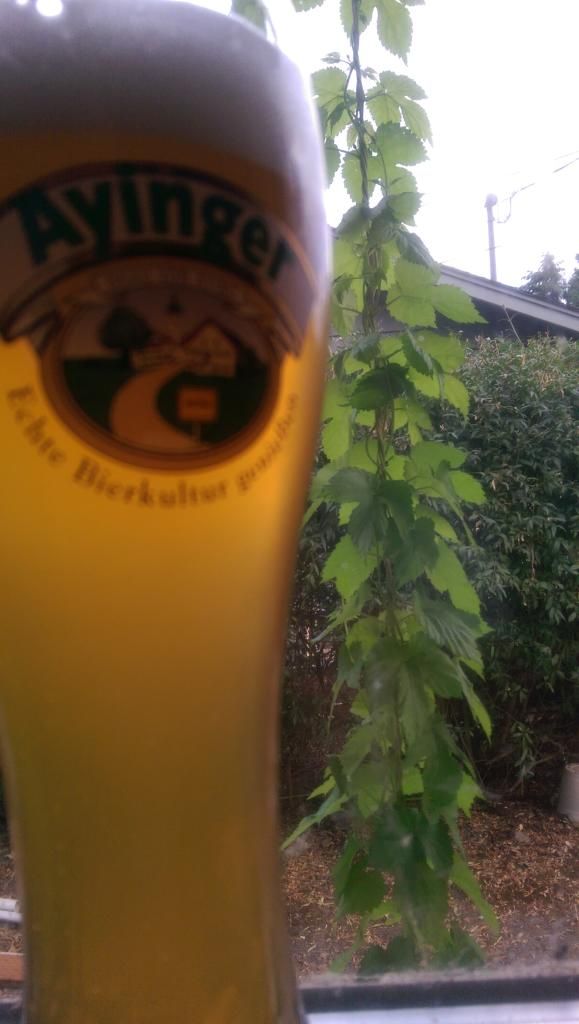 There is just something so refreshing about a well made Hefeweissen. And when I say Hefeweissen, I don't mean that bland, unfiltered Wheat beer crap from America that stole and destroyed the name of a great beer style. I mean a real Hefeweissen, turbid, yeasty, bursting with aromas and flavors of over ripe bananas, cloves, and vanilla, layered over crackery malts, and hints of bubble gum, with a tart and dry finish, crisp, refreshing. On a hot Summer's eve sitting on the deck drinking a glass of Hefe with it's huge billowing head filling the top third of the proper glassware is a wonderful thing. And it pays that my wife loves them too.
Look: 2/3
Pours a light golden, lightly hazy, hue under a thick moussey white head with tight small bubbles. Head fades fairly quickly to a thick cap and leaves lots of chunky lace. Carbonation bubbles flutter up through the beer.
Aroma: 7/12
Ripe banana jumps out of the glass on first sniff at a medium intensity. A medium-low note of vanilla bean follows, as well as a medium level of spicy clove. Low levels of crackers, chex, and light bread crust linger under the fruits and spices. Mild wafts of strawberries round out the finish. The aromas could pop some more which would make this beer shine.
Flavor: 15/20
Tastes just like a banana milk shake. Medium-high banana esters give way to low levels of wheat chex, a nice medium spicy clove note, and even a touch of cinnamon. There is a light bubble gum, and mild tartness as well, no bitterness.
Mouthfeel: 2/5
The beer is juicy, with a medium body, and a spritzy, dry, crisp finish, touch of phenols. Carbonation needs to be higher as it is fairly low to style.
Overall: 6/10
Wonderful marriage of banana and clove, neither one dominates the other. The mild notes of vanilla, wheat, and bubble gum play well and add a level of complexity. A few things to work on is the carbonation, haze, and head. Bottle conditioning a Hefeweisse works much better as you are really able to get that higher level of carbonation that drives much of the aromatics up out of the glass more and would help increase the head retention. It also gives you the ability to swirl the yeast up and add to the glass which is very hard to do with a keg.
32/50