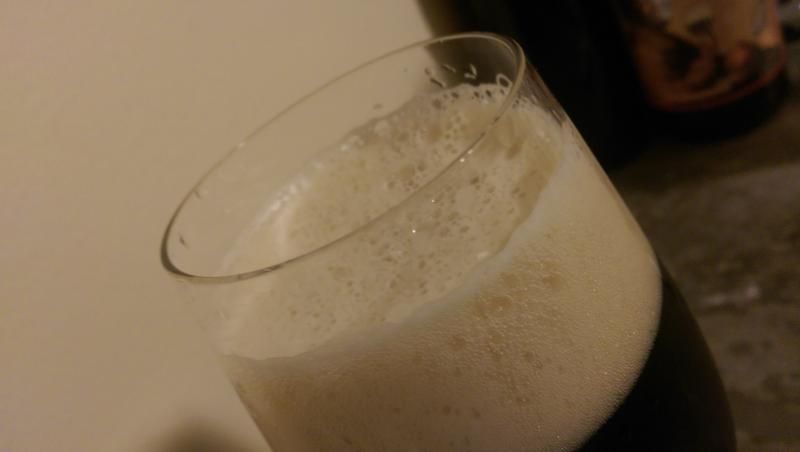 The rain is here, actually it is dumping buckets full everywhere. The weather report says that there is possible flooding, and strong South winds that could down power lines and take out trees. It gets dark by 6pm, and it stays dark until after I am already at work in the morning. The temps are dropping as quickly as the leaves on the trees. Fall is officially here. And so is my Imperial Red IPA. I love having this beer around at this time of year, malty, hoppy, dank, alcoholic, warming, comforting. Needs a couple tweeks and we should have a house recipe.
Look: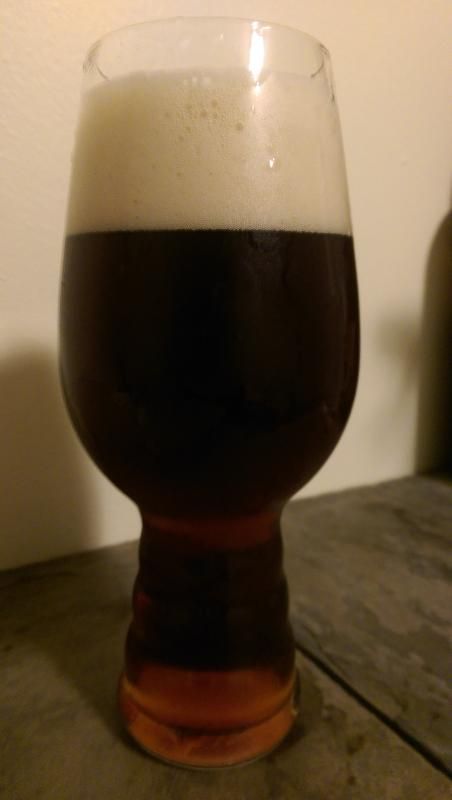 Pours a clear deep red bordering on brown with definite ruby highlights under a 2+ finger thick khaki head that lasts forever. Bubbles are tight and small, leaving a thick lacing all the way down the glass, alcohol legs sweep along the path of the sip.
Aroma:
A huge burst of resin and pine leap from the glass before it even gets to your nose, and gives way to a generic bag-o-hop-pellets kick from the dry hops. Citrus pith, mild coffee grounds, sweet breads, toffee, fruit cake, tangerines, and spicy hops. As it warms there is a faint floral soap note.
Citrus rind washes all over the tongue at first sip, pith, resin, hop oils coat the entirety of the mouth, pine cones, and dank hops. Below the initial burst of hops is a firm malt backbone, toffee, dark fruits, sweet malts, burnt sugar finish. Spicy hops blend with the smooth but warming alcohol. The finish is roasty, slightly ashy, and bitter, a pithy note lingers. Touch of lactic sourness when really cold, I added 9ml of Lactic Acid to the sparge instead of 0.9ml, and it shows.
Mouthfeel:
Medium body gives way to a dry and bitter finish. The alcohol, dextrins, and carbonation leave a good body keeping it from becoming thin. Medium carbonation helps deliver the hops and wash the palate clean. Lingering bitterness and alcohol warmth.
Overall:
The blend of hops and malts are pretty spot on for this beer. The color is a tad dark, and the roastiness is too present in both aroma and flavor, need to dial the Black Patent back a hair. Definitely need to avoid adding too much LA to the sparge water, detracts from a wonderful beer. As always, my bitterness needs to get a crank up a notch or two. Overall I am really pleased with the beer aside from the minor flaws, the worst of which is brewer error as opposed to recipe.
This beer took 1st place in the Imperial IPA category at the McKenzie Cider & Craft Beer Festival - Homebrew Competition