Lots of Hop Debris Left Over
I'm really getting excited to see how my recipes evolve and the yeasts do on these test batches for the brewery. On the last IPA recipes I did, the Cal Ale version had a huge cantaloupe flavor which made it hard to drink. The Trois version was much better, with big burst of tropical esters. Then we all found out that Trois is not actually a Brett strain. I wanted to test out a new strain on the market that is said to be a big pineapple bomb, and wasn't sure it would attenuate fast enough for what I need. 79.5% apparent attenuation in 1 week seems fairly fast.
With having to think through what it will be like to brew these as flagships, I had to step away from some of the hops I have used in previous renditions. Amarillo and Centennial aren't hops that a brand new brewery can get, so they are out, as well as Simcoe, and anything with heavy Citra or Mosaic, although Amarillo's patent is almost expired which will make it easier to get. Using this knowledge I aimed for hops that are not as clamored for in the market that will play well with the tropical and fruity esters from the yeast. This is actually going to be a huge advantage for me since the yeast will give me the dominant notes I want but can't get from the hops as the hops with those characteristics are not as available to me.
NAME: Release the Panic (Fruity vs Sour)
TYPE: All Grain
SIZE: 5.0 gallons
OG: 1.060
FG: 1.012 / 1.012 (Fruity/Sour)
ABV: 6.5% / 6.5%
(Fruity/Sour)
SRM: 8
IBU: 77 (Modified Tinseth)
Efficeincy: 79%
Pale Ale Malt,
Vienna Malt,
Flaked Oats,
Caramalt 30/37,
Dememera Sugar
Magnum,
Meridian,
Chinook,
CTZ,
Nugget
Friuty (5 gallons)
Sour (5 gallons)
Ca 100; Mg 11; Na 33; Cl 100; SO4 200; HCO3 18; pH 5.35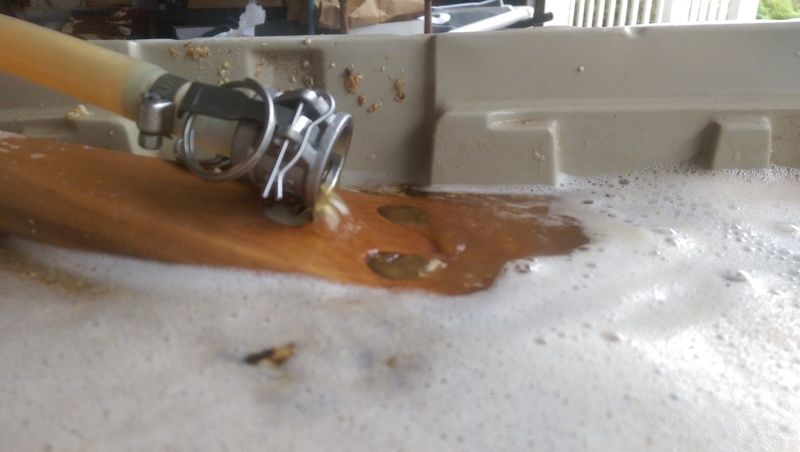 03/14/2015 Brewed alone. Mashed in at 1.5 qt/lb 140*F for 15 minutes, then 150*F for 45 minutes (missed my temps hard) plus a 10 minute vorlauf via pump. First major stuck sparge in years. These oats are going to make this all very fun, might need to include rice hulls in each batch too. Batch sparged with 185*F water at 5.5pH. Collected 13.75 gallons preboil in just over an hour. Boiled for 60 minutes adding hops per recipe. 30 minute whirlpool and then chilled to 66*F in 30 minutes. First time using my new CFC chiller which worked really well. Easily got the temps down to 66*F. Transferred into 2 6 gallon Better Bottles via pump, alternating flow from one carboy to another to ensure that one didn't get less hoppy wort while the other got hoppier wort from the longer hotside contact. New hop screen works wonders even on 13+ pounds of hop pellets. Volume was a little low due to hop sludge, and OG was a touch higher, so I topped off with about .25 gallons of water to hit 1.060 at 4.9 gallons each. Pitched decanted yeast starters, and set temp to 70*F at 2pm. The fruity yeast was rocking by bed time. Pitched a slurry of Carol yeast from the fridge into the other half. Active at 72 hours.
3/21 Checked both batches. Fruity is down to 1.012 and is starting to clear. Sour down to 1.022 and still super hazy (doesn't flocc much at all).
3/28 Fruity is bright, crystal clear, and stable at 1.012, a little higher than I wanted, but no biggy.
3/31
CO2 force racked Fruity version into purged keg containing dry hops
and left at room temp for 5 days to infuse with the goodness. Carol allowed to remain warm and in contact with yeast.
4/9 CO2 force racked Carol version into purged keg containing dry hops and left at room temp for 5 days to infuse.