I really enjoy an Imperial Stout. I really enjoy a Bourbon aged Imperial Stout. What I don't enjoy is the outrageous prices that most breweries charge for such beers. I realize that there are some world class BA Imperial Stouts, I have had a few, Firestone Walker Porabola and Velvit Merkin, Deschutes' Abyss (I have a 4 year vertical in my cellar), Block 15 Super Nebulat, even a Goose Island BCS a long time ago. But when I look at my checking account logically, it becomes very difficult to spend the money. For the cost of 2-3 22oz bottles of a world class beer I can create my own BA Imperial Stout and have 52 12oz bottles (a better format for a big beer anyways!).
I'm not saying that I am the greatest brewer and my beers are world class, but my two past Imperial Stouts were very enjoyable, and are getting better with age. I still have about a case of the 10.6% ABV Chipotle Cherry Smoked Imperial Stout from 2 years ago, and a few bottles of my Imperial Milk Stout (2nd batch) from 2010.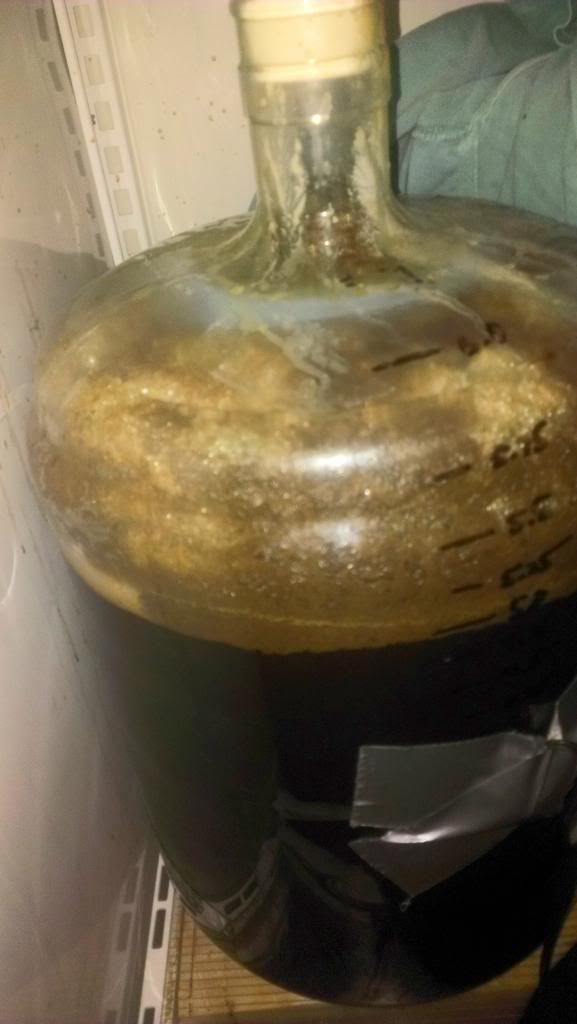 For this beer I wanted something with an Imperial Strength but not super strong. My plan was to begin drinking it by Christmas. I wanted it to have some time on oak before then as well. The desired beer was for a lot of chocolate and roast, a bitter finish, low to moderate toffee and dark fruits, some pine/resin in the middle, nice coffee notes, and a silky mouthfeel. I went high on the roasted grains with a blend of MFB Chocolate, MFB Kiln Coffee, and Roast Barley. I used British Dark Crystal for toffee and Crystal 135/165 for burnt sugar and raisin. I added in some Golden Naked Oats for a nice silky mouthfeel and a hint of berries. I bittered with CTZ and tossed in some Chinook for flavor and aroma.
I was hoping to get to 9.4%, but all the specialty grains I used combined with the Wyeast 1968 for nutty and fruity esters finished at 71% apparent attenuation with the 149*F overnight mash, leaving it at 8.8% ABV. It was done fermenting in just over a week with the large, fresh, healthy pitch of yeast from Ninkasi. It was kegged by 2 weeks, and drinking nice already by 3 weeks (just no real oak/bourbon character yet). I contemplated adding some sugar to the fermenter to boost the ABV some, but then I would have to wait for it to finish out and may lose the chance to get it ready before Christmas.
NOTE: This beer took 1st place in the KLCC BJCP comp in February 2014 for Wood Aged/Smoked beer category.
__________________________
__________________________
14.50# Pale Malt (Great Western) (78.4%)
1.00# MFB Chocolate Malt (5.4%)
0.50# Oats, Golden Naked (2.7%)
0.50# British Dark Crystal - 75/85L

(2.7%)
0.50# Caramel/Crystal Malt – 135/165L (2.7%)
0.50# MFB Kiln Coffee Malt (2.7%)
1.00# Roasted Barley (Crisp) (5.4%) Mixed in 30 mins before Vorlauf
Mash 10 hours @ 148 dropped to 138*F overnight
Sparged with 5 gallons of water for 8.25 gals pre-boil
__________________________
25 1.00 oz Chinook 12.0%AA
5 1.00 oz Chinook 12.0%AA
__________________________
Kettle Additions:
Gypsum

Mash

0 tsp

Boil

3/8

tsp
Epsom Salts

Mash

3/8 tsp

Boil

2/8

tsp
Calcium Chloride

Mash

4/8 tsp

Boil

7/8

tsp
__________________________
Fermentation:
Wyeast 1968 London ESB (Ninkasi Slurry)
__________________________
2

oz

Medium Toast Oak Chips soaked in 2oz (weight) Elijah Craig Bourbon for 4 weeks
45-55*F

20 days (In Keg - on Oak Chips, ambient garage temps)
40*F

2 days

(Chilled for enjoyment - oak left in keg until perfect)
__________________________
11/1-2 Infused with water (leaving out the Roast Barley) and brought to 148*F at 9:45pm. Wrapped in heating blanket set on high inside sleeping bag. Down to 138*F by 8:15pm. Mixed in Roast Barley and heated sparge water. Ran off first runnings into large kettle and sparged with 5 gallons. Collected 8.5 gallons (1 gallon short of intended volume). Adjusted boil time down from 3 hours to 2.5. Brought to boil and added hops per recipe. Added 1/2 gallon of water with 30 minutes left as more boil off occured than expected. Whirlpooled for 15 minutes, then chilled to 62*F. Pumped 4.875 gallons to 6 gallon Better Bottle, topped off with 1 pint (pre-boiled) water to 5 gallons. Pitched just under 1 cup of thick slurry from Ninkasi at 12:30. Aerated for 25 minutes, 3 shots of foam control. Fermentation signs by 6pm.
11/3 Still at 62*F, 1+ inch, thick krausen before church, added heat blanket and set to 65*F. After church krausen is up to the neck of the Better Bottle, added 2 more shots of foam control and swirled. Came home around 5:30pm to an airlock full of krausen. Fitted with blow off tube in quart jar filled 1/3 with StarSan. StarSan was black by bed time.
11/4 Quart jar now 2/3 full of liquid with thick yeast bubbles overflowing down the sides into the bottom of the ferm fridge. Swapped out for jar 1/3 full of water to keep from bubbling so much (StarSan). By lunch time the krausen had dropped back down to around 2 inches. Upped temp to 68*F.
11/5 Krausen has dropped. Swirled fermenter to get yeast back up in suspension to keep working. Bumped up to 70*F.
11/6 Gravity reading shows 1.031. Smells nice, hint of higher alcohols and hops. Lots of chocolate in the taste, balanced, deep roast in the finish. Bumped up to 72*F, swirled fermenter to rouse yeast back up.
11/7 Gravity shows 1.029, still dropping. Roused yeast once more to keep it in suspension and doing its thing. Flushed BB with CO2.
11/11 Gravity down to 1.027, not sure if it will drop anymore than that. 8.8% ABV.
11/16 Kegged with 0.2oz Medium Toast American Oak chips that were soaking in Elijah Criag bourbon to 4 weeks. Strained off bourbon and added wood only.
11/25 Took a taste and there is a very prominent chemical like aroma on it, will have to watch to see what happens with this - it is not the beer, brand new keg line and it is throwing lots of chemicals into the beer in line.
12/1 Added another 0.8oz of Oak chips (I thought I had more initially but no way it was 2 oz), and 2oz (weight) Elijah Craig. Boiled chips in water to sanitize and dumped everything in, water, chips, Bourbon.